Ukrainian ladies are looking for the way to men hearts through the stomach.
Register for free!
Different men like different dishes. You can't argue about fellows' tastes. However, absolutely all men like eating deliciously. Women often use this. You can agree, this is good news: you are loved and fed. Ukrainian girls and women have long been famous for their hospitality. Given half a chance, Ukrainian girls try to get the guest to the table and prime him, offering only the best that is in the house. Ukrainian cuisine and traditions are like Ukrainian girls and women: they combine generosity, softness, and spice. What national cuisine can you be pleased by Ukrainian girls? We chose the most popular and delicious. So, here they are the dishes that will satisfy your predatory appetites.
1) Ukrainian borsch
The native land of this dish is the Ukrainian land. Fortunately, Ukrainian girls and women are one-of-a-kind in the ability to prepare this dish, despite the fact that there is more one dozen of the recipes for cooking borsch. However, according tocustoms, it is vegetable soup with beets at the base of the dish, optional meat filling and, of course, sour cream (smetana) as an impeccable seasoning.
2)Varenyky
Many Ukrainian girls and women can boast of their own recipe for cooking this dish. The varenyky are made from an unleavened dough with a variety of stuffing. It can be boiled or steamed. The cherry on top of Ukrainian varenyky is dough. In real Poltava dumplings it should be "sowbelly," but soft as a down pillow. The stuffing can be very different: cheese, potato, fruit, mushroom or meat. The sour cream is always served with the varenyky. These are part of real Ukrainian family values.
3)Salo and snacks from it
Ukrainian bacon is a real delicacy for many foreign guests. It is eaten in several forms: fresh, salted, stewed, boiled, smoked or fried. There are many recipes from salo, including the famous Ukrainian snacks: salo with garlic, salo rolls and even pickled salo.
4)Holodets
This is a popular old dish, without which there is not a single feast. It is not an easy thing to prepare "the right" holodets. Ukrainian women work many hours over the preparation of the holodets, lightening the broth and making the appearance of the holodets more attractive. In Ukraine, the holodets is prepared from pork and beef legs or shins. To the table, a cold must be served with horseradish or mustard.
5)And what for dessert? Syrnyky!
These cheesecakes, as well as borsch, widely spread beyond the borders of Ukraine - their "historical homeland." The name of this dish comes from the word "cheese" called curd cheese. The syrnyky (cheesecakes) are sweet pancakes made of curd cheese, often with raisins. It is served with sour cream (smetana). Their delicate curd taste will be a good end to the meal.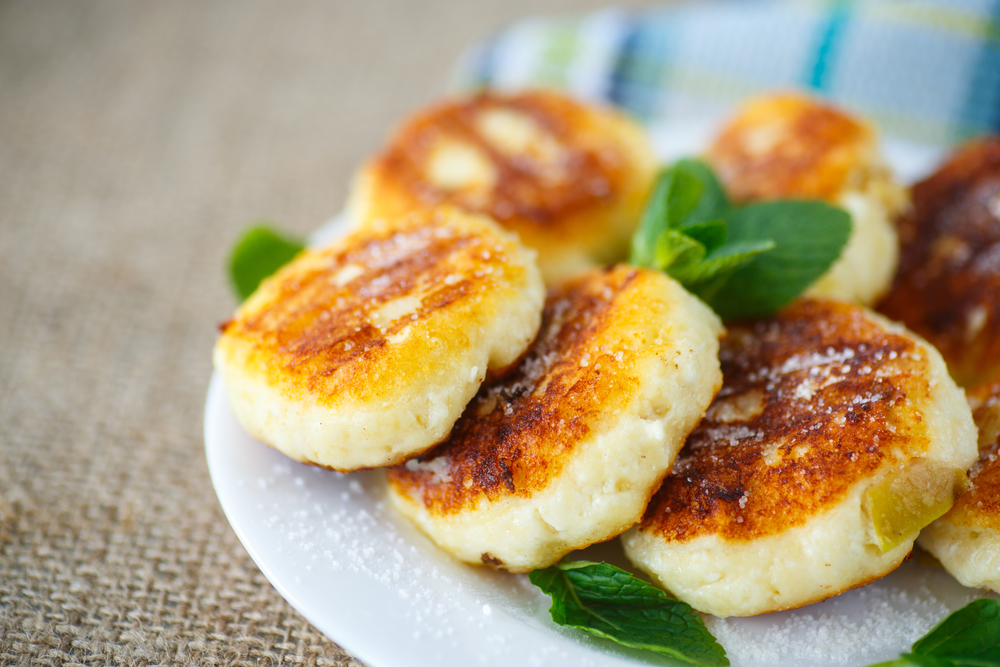 Well, Ukrainian dishes are rich and diverse, everyone can find something unique for themselves. In this case, the phrase "It is better to try once than hear a hundred times" is appropriate. However, do not forget to praise the Ukrainian girls and women for the prepared treats! Then the next dinner will seem even more delicious!
Ukrainian Ladies ONLINE - CLICK HERE
Popular Topics:
1.) Do Russian girls forgive the breach of faith? Heart-to-heart with Russian ladies
2.) About Beutiful Ukrainian women from Odessa
3.) How to build strong relationship and be happy